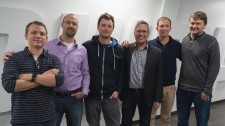 Seattle-based Voyager Capital leads investment syndicate with Microsoft Ventures, GCI, and Inteliquent
Seattle, WA, October 17, 2016 (Newswire.com) - ​​​​Zipwhip, the company that made it possible for consumers to text businesses on their existing phone numbers, today announced that they've closed a $9M Series B led by Voyager Capital. Additionally, Microsoft Ventures and public technology infrastructure companies GCI and Inteliquent are participating in the round. After topping 100 employees in October, Zipwhip will continue that growth by using the new capital to enhance its product offering and further grow the sales team.
Since introducing business texting in 2014, Zipwhip's goal has been to bridge the gap between the 350 million consumer mobile numbers that come preloaded with texting with the 275 million existing wireline numbers that never had it. The market is young, but the growth is high. Zipwhip's business texting volume, also known as A2P (Application-to-Person) messaging, is showing a steady 300% annual increase.
​Zipwhip's team of industry veterans keeps pushing the boundaries on the only open messaging platform—texting. "Businesses are signing up with Zipwhip because they want access to a complete texting solution to communicate with customers, not a private messaging app" says John Lauer, Zipwhip CEO. "Our position is that consumers will always stay attached to the default open network that texting provides, particularly as the medium evolves with new standards like RCS (Rich Communication Services) that enable enhanced communication."
The core premise of Zipwhip is that businesses need software to read and respond to text messages at scale, just like they need software like Microsoft Outlook for email. Zipwhip believes that the status quo five years out will be that every business number will have the capacity to receive and respond to text messages, making texting even more ubiquitous than it is today.
"I've been tracking Zipwhip for a long time and management has done an impressive job executing and building the market. Furthermore, the company's consistent month-over-month revenue growth was just too compelling not to lead the round" says Bill McAleer, Partner at Voyager Capital.
In addition to expanding the sales and marketing efforts on business texting, Zipwhip plans on strengthening their product offering to include software integrations with major CRM providers in the verticals they currently serve. This will allow customers to continue using their existing software with the added convenience of having those conversations available within their existing customer support solutions.
"Zipwhip has unlocked an easy, intuitive way for customers to communicate with businesses via text," says Leo de Luna, Managing Director at Microsoft Ventures. "We are excited to support Zipwhip as the company expands its product offering, and we are aligned in our pursuit to ensure people have technology that is seamless to use."
Additionally, Inteliquent, a premier interconnection partner for communications service providers of all types, is making a strategic investment in Zipwhip. Inteliquent's decision coincides with its focus on expanding the power and reliability of its network into the next generation communications service providers space, and fueling innovations that will transform how businesses use communications networks to reach their customers.
"We recognize the significant impact that Zipwhip is making on our industry, and we could not pass up an opportunity to serve as a strategic partner in this round of financing. This investment expands on our long-standing relationship with Zipwhip, and enables both of our companies to take advantage of joint sales opportunities for a solution that addresses our business customers' needs to be more efficient and increase competitiveness," said Brett Scorza, CIO and EVP of Next Generation Services at Inteliquent.
Each of the corporate partners investing in this round brings distinct value to Zipwhip. Working closely on opportunities with the world's leading software provider, Microsoft, along with support from a powerhouse in voice and messaging software, Inteliquent, and a major regional telecom, GCI, will give Zipwhip's enterprise texting software a strategic edge with new distribution opportunities. Zipwhip is excited to have Voyager Capital as the lead investor and is confident in the value they will deliver in both coaching and the vast connections they've made in their many years of investing.
About Zipwhip
​Zipwhip is a Seattle-based business texting SaaS provider who pioneered the concept of utilizing the cloud to enable existing landline, VoIP, and toll free numbers to send and receive text messages from any connected device. Additionally, Zipwhip offers a carrier-grade cloud texting platform to help mobile and landline operators modernize the texting medium. Its technology introduces trailblazing functionality while holding true to the distinct culture of texting that consumers have grown to love.
About Voyager Capital
Voyager Capital is a leading West Coast information technology venture firm that provides entrepreneurs with the resources, experience and connections to build successful companies. Voyager invests primarily in early stage software, analytics, digital media and IOT companies, where the firm's domain expertise, go-to-market and team building resources help build market leaders. Voyager Capital has $420 million under management with offices in Seattle, Washington; Portland, Oregon; and Menlo Park, California.
​Zipwhip Investor Relations
Bill Kearns, VP of Finance
Text or Call: (206) 582-3757
Email: bkearns@zipwhip.com
John Larson, CMO
Text or Call: (734) 718-0067
Email: jlarson@zipwhip.com
Source: Zipwhip
Share: